---

Mgr. Radoslava Hoglova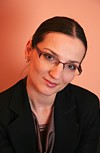 Mgr. Radoslava Hoglova graduated from Law Faculty at Comenius University in Bratislava in 2000. In 2000 she also finished Two Semestrial Studies of European Union Law and European Integration – European Studies at Academia Istropolitana NOVA.
In 1999 and 2000 she worked for non profit organization acting in the field of criminal law and for the Office of Governmental Agent representing the Slovak Republic before the European Court of Human Rights in Strasburg.
Since 2000 she worked in company KPMG Slovakia as a legal counselor particularly for international clients.
From 2003 to 2006 as an associated advocate of middle sized law firm, legal successor of KPMG legal services, where she used to participate on projects related to commercial, immigration, labour law and real estate law as well as projects within automotive industry.
Radoslava Hoglová has been a member of Slovak Bar Association since 2004. She brings with her a valuable experience of 7 years practical experience particularly in the area of labour and commercial law.
She practices in areas related to commercial and corporate agenda of the clients. She has also acquired significant and distinctive experience in the areas of securities and real estate law and legal consulting in employment of foreigners and concerning social security of migrating employees after the accession of Slovakia to EU.
She is fluent in English.
---